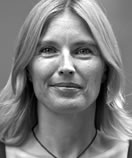 Lynsey Devon

PR Associate Consultant
Lynsey has more than 20 years of experience in guiding, planning and directing Public Relations strategies in the travel industry. Her career spans corporate environments through to advising small privately owned businesses on all aspects of PR.
Prior to starting Heaven Publicity, she was PR Manager at TUI Travel PLC's Specialist and Activity Sector for three years working across a multitude of brands ensuring maximum PR buzz with campaigns for Thomson Sport, Headwater, Sportsworld and TrekAmerica to name a few.
Lynsey oversaw Hotelplan's communications department, where she spearheaded the wildly successful PR for the portfolio of six brands. She has worked with partners worldwide to raise their profile successfully during her twenty-year tenure and she possesses a wealth of relationships and top tier media contacts.